You are here

Our Process
Our Process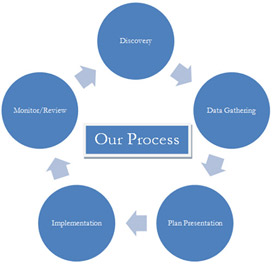 Discovery
During our introduction meeting, we establish a working relationship and mutual understanding with our prospective clients. They have the opportunity to learn more about who we are, how we work, and what services we provide.
We also utilize this meeting as an opportunity to determine whether or not we can provide value to you, and if your situation fits with what we do best. If we identify potential opportunities and/or significant gaps in your current situation, we will explain them to you and how we may be of service. This meeting is important so we can determine if we have a full understanding of what's important to you.
Data Gathering
In order to make complete and accurate recommendations that address your financial situation, we need to gather accurate and detailed data about you. We ask you to provide all pertinent information we need to formulate recommendations, which may include goal setting, tax returns, investment statements, insurance policies and legal documents.
Plan Presentation
At this stage of the process, we present our findings and describe, in detail, where you are now, where you want to go, and what you need to implement to get there.
Implementation
By utilizing our resources in the marketplace, we are well positioned to act as your advocate in implementing your plan effectively. The strategy we suggest is based on the time we have taken to understand you, your finances, and your goals.
Monitor/Review
Because life is forever changing, your financial life does too. Once we've helped you create, design, and implement your financial plan, we meet to begin the ongoing review and monitoring of the plan. We want to ensure that your plan remains current and keeps your goals, values and vision in sight.
Typically, we like to be in contact with our clients quarterly, bi-annually and annually to review and update their plans.